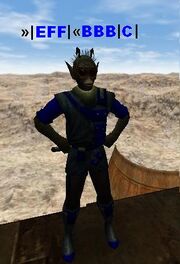 In-Game Name: BBB
Real Name:
Forum Name: Bad Blue Boy
Xfire:
Gender: Male
MSN:
E-mail:
Location:
Date of Birth: 22.03.1985
Side: Jedi
Skin:
Achievments
Councillor Of EFF
Predator Rank
Elder title: Retired Councillor
Ranks
Jedi Padawan
Jedi Knight
Jedi Guardian
Predator Division
Councillior
Jedi Guardian, on 24/05/2011 he step down from Council
Joining
No information submitted.
Character
Ad blocker interference detected!
Wikia is a free-to-use site that makes money from advertising. We have a modified experience for viewers using ad blockers

Wikia is not accessible if you've made further modifications. Remove the custom ad blocker rule(s) and the page will load as expected.