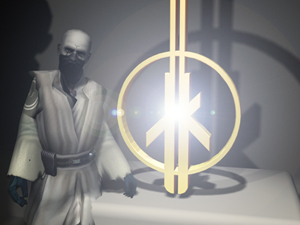 In-Game Name: Morabis
Real Name: Peter
Forum Profile: Morabis
Birth date: 1986.12.02
Gender: Male
Xfire: morabis22
MSN: -
E-Mail: -
Location: Hungary
Side: Jedi
Skin: Download
Achievements
Contributions
Maker of EFF Arena
Maker or Main Roster members' images
Developer of Caretaker coding system: Qryptus
Conductor of Project Morpheus: Website Migration
Ranks
Jedi Padawan, on 11/10/2009 he was accepted by Apophis
Jedi Knight, on 02/02/2010 he was promoted by Blaze
Jedi Padawan, on 17/07/2010 rank Jedi Knight was renamed to Jedi Padawan
Jedi Knight, on 15/08/2010 he was promoted by Battousai
Jedi Guardian, on 22/02/2011 he was promoted by Alcivar
Councillor, on 24/05/2011 he was promoted by Fluffy
Councillor
Maps, logos and signatures, server hosting and maintaining. Scince his joining Morabis showed exceptionary skills for all advanced coding and graphical stuff.
When Council Departaments were created he become preatty obvious chose to take the lead over the Administration one. He is responsible for many kinds of projects, from caretakers Qryptus to the wiki graphical revolution.
Not often seen on server he prefers rather to talk than to fight- after a year membership he hadn't reached the high ranks (ranks in EFF are skill based).
As the Councillor he always examines all pros and cons of each situation not letting his emotions guide him, which doesnt mean he is strict or heartless, he is just objective. He always tries to be up to date with whats going on in clan, ready to help with his experience.
"I mostly listen to dicsussions and only say my opinion after considering. I'm more active on forum than server and always try to help the members mainly the newcomers. In my department I'm active enough as there is always something to do. XD "
Currently Morabis carries on various mapping, programming and server maintaining projects, which take most of his free time.
Wiki graphical improvement
Removing controversial Hall of Fame

Project Morpheus (new site engine for EFF)
Community Comments
Scince his joining Morabis contributed our community countless times. He is great designer, coder and mapper who posseses large amount of knowledge about JKA mechanics. He is the one who created EFF logo in the way it looks now, he made 1st EFF map - EFFarena. For long time he is also server hoster. Lately he gave me much help at the beggining of my mapping adventure, which gave imput to the Training Temple map I am doing with Alverd(MoD). And those mentioned above are now becoming only the top of ice mountain as he is not going to stop... :)
Ad blocker interference detected!
Wikia is a free-to-use site that makes money from advertising. We have a modified experience for viewers using ad blockers

Wikia is not accessible if you've made further modifications. Remove the custom ad blocker rule(s) and the page will load as expected.