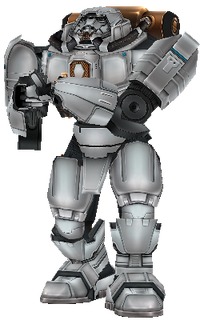 Return to:
NPC
Behaviour: Stands in 1 place shooting to player.
BUG: Does not use walking animation while moving.
BUG: His weapon spawns in his stomach and its model remains there even when the weapon is pulled out from his hands. Despiting this fact he uses his 'invisible' gun quite efficiently...
HazardTrooper
Name:   HAZARDTROOPER
Health: 150

BUG: His riffle sometimes creates unnatural blinking flashes.
HazardTrooperConcussion
Name:   HAZARDTROOPERCONCUSSION
Health: 150

HazardTrooperOfficer
Name:   HAZARDTROOPEROFFICER
Health: 150

Ad blocker interference detected!
Wikia is a free-to-use site that makes money from advertising. We have a modified experience for viewers using ad blockers

Wikia is not accessible if you've made further modifications. Remove the custom ad blocker rule(s) and the page will load as expected.