Events at EFF
Events are something we take with great stride and great attitude here in EFF. We pride ourselves on them, and we always try to prevail where we can, even if it is between us internally. Below you will find a list of types of events that we do:
OFFICIAL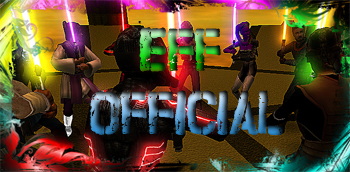 These events are made officially by organisers and leaders alike and usually particpate in a duelling tournament with set rules regarding pass or failure. Reigning Champions from previous versions of these events are to present themselves as a chance to defend thier title.
See: Official Duel Tournaments
JEDI VS. SITH
WEEKLY
MONTHLY
EFF VS. CLAN

This is the pride of EFF, our matches with other clans. In here the event organisers will organise with clans skirmishes for freindly or competitive play.
See: Fighters
RANDOM
Current Event Organizers
Being an Event organiser is a job.
Ad blocker interference detected!
Wikia is a free-to-use site that makes money from advertising. We have a modified experience for viewers using ad blockers

Wikia is not accessible if you've made further modifications. Remove the custom ad blocker rule(s) and the page will load as expected.