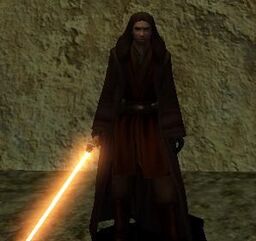 In-Game Name: Titan
Real Name: John Doe
Forum Name: {Titan}
Gender: Male
Date of Birth: 08.11.1990
Location: United Kingdom
Side: Jedi
Achievements
- Predator Division Rank
Ranks
Jedi Padawan |JP|
Jedi Knight |JK|
Predator |PD|
(old rank system)
Joining
He applied to the clan at 2009-06-22 and got accepted by Emperor Apophis.
Hall of Fame
Hall of memory:
I remember when i had my first rank - Jedi Padawan - in EFF, i always trained and tried hard to be better in the way of saberfight, and there was someone who always kept the soul in me when i felt a loser, being the only one with duals in the clan.
Yes, that man was Titan.
He was the first Predator in EFF along with Arkaine. Doing his job well not only as a Predator but as a master too. He was skilled and he was a really good person. A person to talk with, to chill with, to train with. I remember him always saying: 'cmon i know you can do better' Tough he wasnt in EFF for too long, he achieved more than anyone else could do in that period of time.
He left the clan at 2009-07-13. The reason why he left was becouse he joined the army. He left his promising students with good hopes and even one of them, Kruger (later known as WildCat) has achieved a lot more than his master in EFF. ~ Blaze